***Xmas Giveaway – Scroll Down to Enter!***
Over on our Facebook page we shared an amazing xmas gift idea with the entire online kitesurfing community!
Having recently received these amazing Kitesurf Destination Maps from Awesomemaps.com, we were stoked! They really do make the perfect gift for kite obsessed friends!
We were so impressed our maps, that we reached out to see if we could get a something a little extra to give to you all!
We managed to get 10% Off of Awesome Maps for all of our kitesurfing buddies! All you have to do is head over to their website and use the following promo code upon checkout!
PROMO CODE: NOMADKITEEVENTS
That's not where the story ends……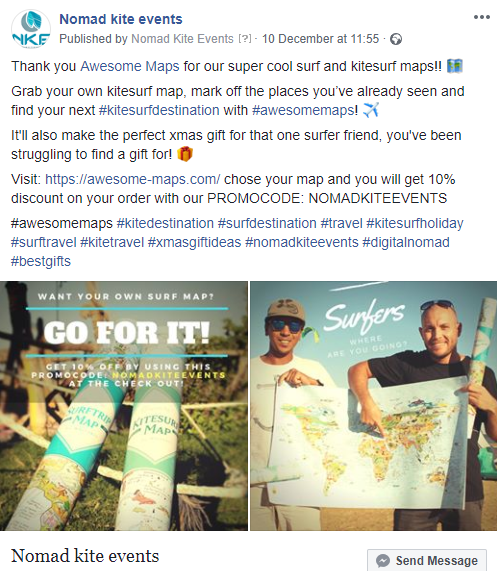 We are having such an amazing response to our post from all of you! So once again we've been in touch with the guys at Awesome Maps and asked them if they'd be willing to team up for a special holiday giveaway! They said YES!
So here it is!
A Very Special Nomad Kite Events Christmas GIVEAWAY!!
Two lucky members of the  Kitesurfing community will have the chance to win their very own Kitesurf destination map!!
Will it be you?
Enter below for a chance to win and afterwards remember to share with all your friends for more entries!
The giveaway will be closing at 11.59pm on the 25th of December 2018. We will be announcing the winner and contacting them via email within 7 days of the closing date!
Good Luck!