Every year 1000's of people around the world are struck with the desire to take up a new hobby.. Their personal reasons may vary from getting fit, spending more time on themselves or meeting new people and making friends!
If we had our say we would be telling every single one of those people to give kitesurfing a try! Why?
Well we came up with over a hundred reasons why we think Kitesurfing is an amazing sport. 100 reasons why everyone should give it a go at least once. But we thought that'd be quite a long read, so instead we narrowed it down to our top 10 …..
10 Reasons Why You Should Go Kitesurfing This Year!
1. Become part of a community
Taking kitesurfing lessons at a kite school gives you the opportunity to meet new people, make new friends and join a global community. Many of whom have may have similar interests such as spending time down on the beach, improving their kiting and travelling worldwide!
2. Boost Your Confidence
It's a well known fact that mastering new skills is a sure fire way to build your overall confidence. When it comes to kiting there is always something new to learn. There are skills to practice and tricks to perfect; each time you get them down, your confidence will rise another notch!
3. Challenge Yourself!
Every new year brings with it people setting themselves challenges and new goals to obtain. The internet is inundated with 30 day challenges for all manor of things. Why are they so popular? Because the tremendous feeling of triumph when you succeed, is worth any obstacles you have to over come on the way! Kitesurfing is another opportunity to push and challenge yourself, with that rewarding feeling at the end.
4. Any Excuse for a Holiday in The Sun
Having a hobby that can take you on travels around the world is a gigantic bonus. There are many popular destinations to choose from. If you need somewhere to escape the cold in the winter, you'll be sure to find a kiteschool in a sunny spot in one of the countries on your bucket list!
5. Improve Your Balance and Co-Ordination
As with the majority of board sports, balance and body placement are key to becoming a great rider. You'll spend plenty of time working on getting those things just right! Kitesurfing also requires a large amount concentration in the beginning and hand-eye co-ordination is something you'll work on as you learn to control that kite.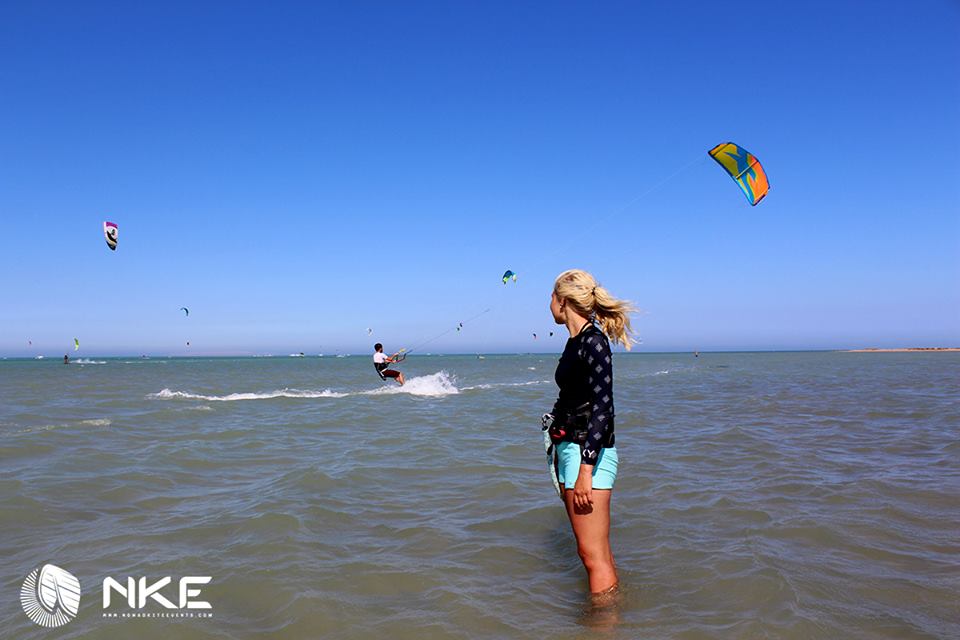 6. Get Outside, Improve Your Health
It has been scientifically proven that spending more time outside and in nature can contribute to improvements in both physical and mental health! Once you are up  riding independently, kitesurfing can be as relaxing or as energetic as you like. The exercise will be a good way to improve your overall health!
7. The Perfect Family Vacation
We have said it before and we will say it again: Kitesurfing really does make the perfect family vacation! It ticks all the boxes and learning with family helps strengthen relationships as you support each other through the process. If Egypt is on your list of places to visit with your family, check out our guide to family Kitesurf Holidays in El Gouna.
8. Find Your Core Strength 
If you've ever watched pro-kitesurfers online, such as those competing in the Big Air Comps last year, I am sure you've been blown away by how high they get and some of the amazing tricks they pull off! Well that my friends requires a lot of time, patience, practice and most importantly core strength. When you're ready to take your kiting to the next level you'll certainly spend some time discovering and building up your own core!
9. Invest Your Money in Something Worth While
How many times have you got to the end of the month and realised you've poured your money down the drain so to speak?
Kitesurfing probably can not be considered the cheapest hobby out there but feel safe knowing that you'll get something extremely valuable out of it for every cent that you put in! Taking up kitesurfing this year will be well worth the investment. With all the reasons above and more, it's rare for a person to come away wishing they'd spent their money else where!
10. It's Fun!
Ultimately kitesurfing is just really enjoyable. I know there are probably a hand full of people out there that might disagree with that statement but the vast majority of people who have given kiting a chance,  will agree that kitesurfing is fun. There are laughs to be had, adventures to go on and memories to create! If you are looking for just one reason to go kitesuring this year, this is it "Everybody deserves some fun!"